"Dolicia Paris" - "Wo sind die Maenner"
"Dolicia Paris" - "Wo sind die Maenner ?"
Dolicia Paris, startete ihre Musikkarriere in Sueddeutschland und der Schweiz. Waehrend ihres Studiums in Paris war sie Backgroundtaenzerin und Choreografin. Sie sang vor grossem Publikum ua.als Vorgruppe von La Bouche, Masterboy, DJ Bobo, Haddaway, Udo Lindenberg von Ende der 90er bis 2006,

Auch auf dem Album "Pompoeoes" von "Harald Gloeoeckler" ist ihre Stimme zu hoeren.
Ihr bisher wichtigster Auftritt war das singen der deutschen und franzoesischen Nationalhymnen live im deutschen Fernsehen fuer die Klitschko-Vorrunden Kaempfe.Ausserhalb ihrer Solokarriere als Singer-Songwriterin in der Musikbranche begleitet sie auch regelmaesig die fantastische VIP-Coverband "Mimmo And Friends" aus Stuttgart in ganz Europa und weltweit. Mit Stars wie Thomas Anders,Albano Power und Giovanni Zarella teilte sie sich mit der Band die Buehne fuer grosse Firmengalas aus der Region Stuttgart.Ihr Ziel ist es, die Popwelt im deutschsprachigen Raum und Europa zu erobern, begleitet von franzoesischem Flair.
Mit den A-stereo-id Produzenten Severin Hardy und Markus Klenk arbeitete Dolicia auf einigen Apollo Freestyle Produktionen
fuer ZYX Music zusammen und unterstuetze "Stadtmeister 23" auf seinem EM Song "Allez Allez".
Ihr Motto: 'Wer aufgibt, hat schon verloren'...
"Dolicia Paris" - "Wo sind die Maenner ?"
Dolicia Paris, started her music career in southern Germany and Switzerland. During her studies in Paris she was a background dancer and choreographer. She sang in front of large audiences as an opening act for La Bouche, Masterboy, DJ Bobo, Haddaway, Udo Lindenberg and others. from the late 90s to 2006.
Her voice can also be heard on the album "Pompoeoes" by "Harald Gloeoeckler".
Her most important performance to date has been singing the German and French national anthems live on German television for the Klitschko preliminary round fights. Outside of her solo career as a singer-songwriter in the music industry, she also regularly accompanies the fantastic VIP cover band "Mimmo And Friends" from Stuttgart throughout Europe and worldwide.
With stars such as Thomas Anders, Albano Power and Giovanni Zarella, she shared the stage with the band for large company galas in the Stuttgart region. Her goal is to conquer the pop world in German-speaking countries and Europe, accompanied by French flair.
Dolicia collaborated with A-stereo-id producers Severin Hardy and Markus Klenk on some Apollo Freestyle productions for Zyx Music and supported "Stadtmeister 23" on his EM song "Allez Allez"
Her motto: 'Who gives up has already lost'...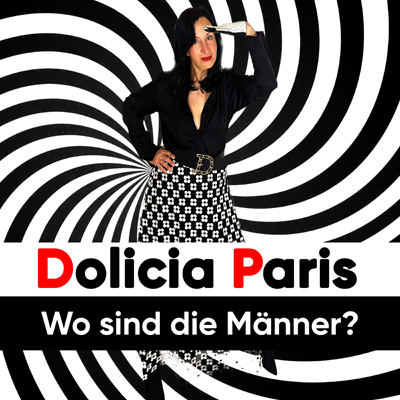 "Dolicia Paris" - "Wo sind die Maenner ?"@
Amazon